The first cake I remember decorating (other than just placing those hard formed sugar disks pressed into letters and shapes) was to celebrate my cousin's Special Olypics gold medal. Roberta competed in the International Games the first year they were held in South Bend, Ind., 1987 I believe. When she was due to visit to show her medal to our grandfather, I baked a cake mix and frosted it with canned icing. Then, using tubes of decorator gel, I drew a gymnast with long dark hair, arms raised in victory and a gold medal around her neck. I figure I wrote something on the cake, too, crooked no doubt, but I can't remember what.

Fifteen years or so later, I would get the urge to create again. For one of my mother-in-law's birthdays I decorated a cake to look like a grill. Simple enough -- just draw evenly spaced lines of dark chocolate frosting crosswise on the cake; slide dried fruits such as apricots, pineapple chunks and prunes, a-HEM DRIED PLUMS, on bamboo skewers; and unwrap full-size peppermint patties to stand in for hamburgers.


A couple of years after that, I took a community class in cake decorating. Susie, the instructor, can do amazing things with buttercream. I'm nowhere near that good. But I like to think I have made some children (and a couple of adults) happy with my efforts.

This was my final class project.




This is a cake I made for a newspapering colleague who got married.




Checkerboard cake with lots of roses for Mother's Day:




Perhaps my most involved/challenging cake:


I can't remember if it was harder to get the frosting flower to stick in her hair or the frosting bra cups to keep from sliding down her body!


I can do more than "star-tip", but that's what I did for this Scooby-Doo cake.


Pay no attention to the Star-Tipper, check out those fingernails! Ah, life pre-children. :)


My adventures in frosting haven't been limited to cake. For Wilton's gingerbread house contest one year, I entered a beach hut.


The hut was constructed of graham crackers and covered in potato sticks (the roofing ones were dyed with green food coloring.) Positioned on a blanket of brown-sugar sand, the hut was surrounded by palm trees made of Pepperidge Farm Pirouettes cookies and spearmint gum-drop slices. Raisins made coconuts. I used a shell tip to make frosting shells for the beach. My husband got into it and made a crab and a starfish out of dried cranberries.


I didn't win but I was on the same wavelength as that year's winner who put Santa in front of his or her beach house.

Easier than it looks... . A cake for a sister-in-law who collects everything "Coke."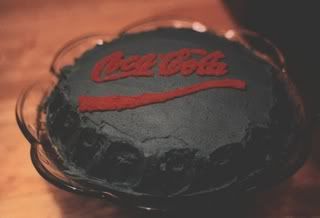 Demolition derbies are big in our town so this was a fun cake to make for a boy's birthday.


My husband had fun the smashing Matchbox cars. I personalized the cake by writing the names of the party guests on the cars, just like folks do on a real derby car.

The Spider-Man toy doubled as a gift for the birthday boy and a cake decoration.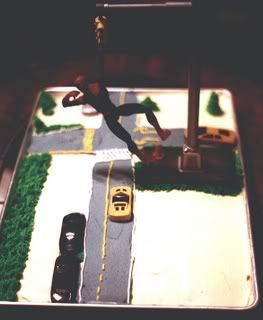 Never say never ...

I always said I would never try to sell cakes, but I could use the extra cash and it is a marketable skill. I won't do weddings though -- I have neither the equipment nor the patience and confidence to take on such a monumental project.